All Kinds of Labels



Most Popular Die Cut Sizes

(Click to View)


Our most popular die-cut labels are perfect for a variety of applications. Die-cut labels feature rounded edges and are available in your choice of one line to several lines of text and artwork. Dozens of sizes available!

Full Color Business Cards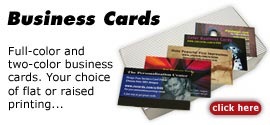 Our full-color business cards let you include vivid color photographs or artwork. (Select images from our free art library, or upload your own unique artwork.) Stand out from the crowd with full-color business cards!



Click here to go to our online Store: Wolf Promo Online Store Click here

Flat Printed Business Cards
Offset or "flat" printing is the most widely used type of printing today. It is a very high-quality printing process, which produces crisp, clear results. Additionally, flat printing is one of the most versatile types of printing available.

Raised Printed Business Cards
"Thermography" (also called raised printing) is a printing process in which a powder resin is dusted over the wet ink and then melted, causing a raised print surface. Thermography produces a raised appearance throughout the printed piece.


Rubber Stamps & Accessories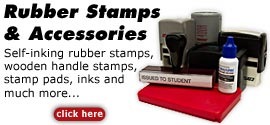 Pre-Inked Rubber Stamps
Our pre-inked rubber stamps get up to 100,000 impressions before re-inking, and are perfect for home or business use. Choose from 18 different sizes/styles.

Self-Inking Rubber Stamps

Self-inking rubber stamps make thousands of impressions before running out of ink. And, when they do run out, you simply re-fill them and start all over again! Choose from three popular sizes - small, large, and jumbo.

Daters & Special Shapes

Our custom daters and special shape stamps are one of our best selling products. Daters allow you to combine your personalized message with a fully adjustable date range. Special shape stamps come in several shapes, including square and rounded.

Rubber Stamp Accessories

We carry all the rubber stamp accessories you need. Ink bottles/refills: red; green; black; and blue colors available. Stamp pads: small; large; and jumbo sizes available


Promotional Products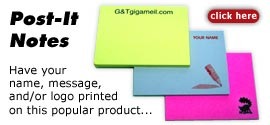 Post-it Note Pads

A revolutionary adhesive note that adheres securely to paper and most surfaces, yet removes easily without damage. Attach notes without staples, paper clips or tape. And best of all, you can customize these post-it notes with your own logo and/or message!

Sportswear


Sportswear

Whether your company is sponsoring a local sports team or you want to give personalized gifts. Our embroidery system allows custom text along with the use of our stock logos. (Note: Custom artwork may not be used on sportswear products.)

Mouse Pads


Mouse Pads

Custom mouse pads are great for business advertising! Just imagine having your company logo and phone number sitting right under your customer's computer mouse! We offer custom mouse pads in six sizes and your choice of color.