Click here to see our Waddell Display Cases at Display Case Depot!

• Call for a free quotation anytime: 631-868-7273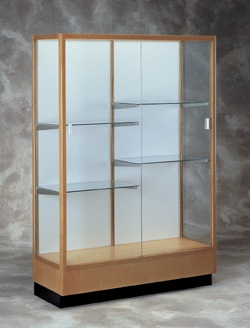 The Heritage Series 891M-MB-C $995.00 plus freight.


The traditional good looks and solid construction of The Heritage Series make our oak or hardwood frame cases the most popular in the Waddell line. With their classic styling, Heritage Series cases will stand the test of time as well as they stand up to school environments. These durable cases offer standard sliding tempered glass doors, built-in locks and levelers, and are available with an optional cornice/lighting fixture. Base and top cases may be purchased separately or together to create just the right configuration for your space.


• Mirror Back, Cordovan Wood Frame
• Size: 48"L x 70"H x 18"D

• List Price: $1275.00
• Wt: 270 lbs.





••••••••••••••••••••••••••••••••••••••••••••••••••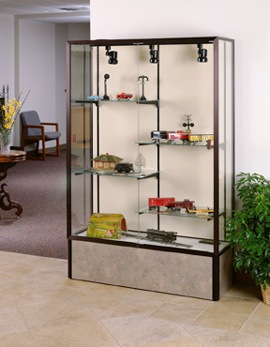 The Monarch Series 571MB-BZ-BM $1,485.00 plus freight.


The uncommon look of the Monarch Series is a great way to house your extraordinary accomplishments. Monarch dresses up its surrounding with any of the three contemporary laminate choices available for the base. Anodized aluminum framing secures the tempered glass doors and built-in lock.

The 571, 573, and 575 Monarch showcases come complete with interior lighting for added emphasis. The Monarch Series is offered in three different size configurations. Inside Monarch, your best won't go unnoticed.


571 Series with Mirror Back, Bronze Aluminum Frame, Black Marble Wood Frame.
Size: 48"W x 72"H x 16"D.

• List Price: $1850.00
• Wt: 279 lbs.

Will call with freight amount.Or request freight quote and let us know your needs:


• Are there any stairs?
• If so, how many?
• Inside delivery?
• Do you have a loading dock?
• Can anyone help offload?
• Do you need a Lift gate?

Email your freight request to: steven@wolfpromo.com

••••••••••••••••••••••••••••••••••••••••••••••••••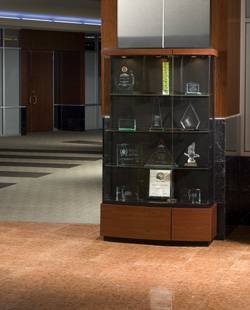 The Quantum Series 511-BB-CHY $2,695.00 plus freight.


Quantum Series, the newest series from Waddell, combines modern styling along with the functionality and dependability expected from the world's best known brand of display cases. Quantum Series feature furniture grade cherry laminate bases and tops. Curved tempered glass doors provide an elegant look to each case. The black textured backing on each case is designed to reduce glare and draw attention to your cherished achievements displayed inside. All cases have full length shelves and built-in lighting.


• Display Finish: Cherry Oak.
• Case Back: Textured Black Laminate.

• List Price: $3145.00
• Wt: 240 lbs.


• 511-BB-CHY List Price $3145.00 -Wt: 240 lbs. 42L x 73H x 12D
• 512-BB-CHY List Price 2845.00 -Wt: 196 lbs. 25L x 73H x 12D
• 513-BB-CHY List Price 2545.00 -Wt: 136 lbs. 16L x 73H x 12D
• 514-BB-CHY List Price 2745.00 -Wt: 140 lbs. 32L x 44H x 12D
• (All Sizes are in Inches)

Will call with freight amount.

• Or request freight quote and let us know your needs:
▪ Are there any stairs?
▪ If so, how many?
▪ Inside delivery?
▪ Do you have a loading dock?
▪ Can anyone help offload?
▪ Do you need a Lift gate?

▪ Email your freight request to: steven@wolfpromo.com or Call: 631-868-7273